Features
Releasing a next-generation variable refrigerant flow air conditioning systems designed for buildings that saves energy, construction time, and installation space!
Hitachi has developed the new FSN6Q Series series to meet the increasing requirements and complex operating conditions of intelligent building air conditioning. FSN6Q Series comes to you with higher cooling capacity, unique safety features, lower power consumption and lower operating costs.
Wide Product Range
&nbsp6 types base modular unit and combination of 24 capacity outdoor units.
&nbsp9 types80 models.

Inteligent Control System
&nbspMaintenance

Adopts latest technologies
Newly-developed, Highly-efficient 2-blade-Inverness Fan
High-efficiency Fan Module
Vector-control DC Inverter
High-efficiency DC Inverter Compressor
High-efficiency, Constant-speed Compressor
Large-capacity DC Fan motor
Newly-developed, Energy-saving Heat Exchanger
Supercooling Circuit
The Hitachi Patented High Efficiency Scroll Compressor
Anti-overcompression Technique
The Originated 2-Stage Oil Sparating Technique Improves Reliability of System
The Hitachi Patented Precise Inverter Technique
The operating speed of DC motor in compressor can be adjusted continuously in 1Hz increment and freely relating to the variability of system capacity. This technique integrated with auto-adaptive control technique automatically adjusts capacity output according to actual air conditioning load in order to achieve a smoother curve of temperature fluctuation.
Heat Exchange Efficiency
25-step Fan Speed Control
The DC variable-speed motor is adopted in outdoor unit, which results in effciency promotion and power input reducation. The outdoor fan speed can be adjusted by 25 steps.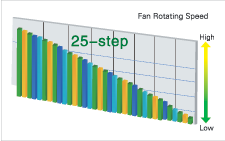 New Efficient Heat Exchanger
| | |
| --- | --- |
| "2 in 1" Refrigerant Circuit | Improvement of Heat Transfer |
Two-stage Super-cooling
A sub-cooling section in the heat exchanger of outdoor unit is designed to realize the first-stage super-cooling. Furthermore. a high efficient recooler is applied to archieve the second-stage super-cooling.
1. Two-stage Super-cooling Cyclic Graph
2. Two-stage Super-cooling Pressure-enthalpy Graph

Two-stage super-cooling circulation enhances cooling capacity
Pressure loss of refrigerant flowing in pipe is reduced
Improved undercooling contributes to stable operation of EEV
Improved undercooling allows extension of total piping length.
Various Controllers
Remote Control Switch


Wireless Remote Control Switch


Central Station

PSC-A64S, PSC-5S*
DX Computer Controlled Network System
Central Station DX is a powerful computer controlled network system with easy operation which can monitor and control utmost 1024 outdoor units and 2560 indoor units through H-LINK II connection.
Building Management System
Compatible to multiple communication protocol of Lonworks. BAXnet. RS-485 etc. Connectible to BMS or Smart Home System.
Real-time operation status monitoring for inquiry
Operation order from monitoring center
Maintenance - All - directional Maintenance and Service
Self-diagnosis and Intelligent Operation Inspection

Through remote controller or 7-segment LED displays on Outdoor units, self-diagnosing error code and information can be easily got to monitor the system operation status which makes both operation management and maintenance more convenient.

Automatic Simple Judgement System for Refrigerant Amount
Double Back-up Operation Function
Automatic Reset Function