SET-FREE Cooling Only Front Flow series is highly-efficient and reliable air conditioning system realized by Hitachi's unique technology
Hitachi High Efficiency Scroll Compressor
In 2003, Hitachi promoted the first high-pressure shell scroll compressor in the industry which has the function of interior oil separating. At the same time, aiming at the high pressure characteristics of R410A refrigerant, asymmetric scroll disc was developed and bearing structure was strengthened which improved efficiency and reliability of the compressor.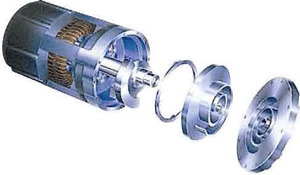 Hitachi Unique Noise Reduction Technology
Top-Class Quiet Operation(Outdoor Unit)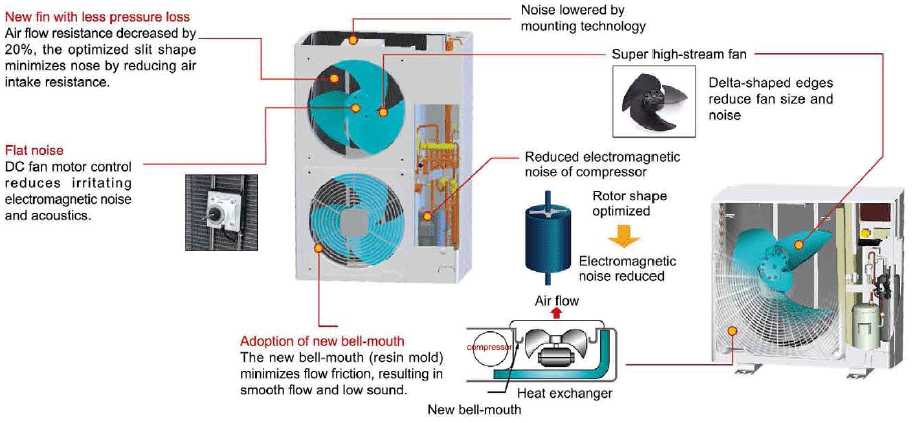 The 2-stages Oil Separating Technique
System adopts Hitachi proprietary compressor which has high efficient function on oil separating to conduct the first stage oil separating. Meanwhile, oil separator is adopted as the second stage oil separating. Therefore the system can operate safety and reliably.
DX Computer Controlled Network System
| | |
| --- | --- |
| Central Station DX is a powerful computer controlled network system with easy operation which can monitor and control most 2560 indoor units. Each adapter of DX system can interface up to 160 indoor units. | |
Central Station EZ
Up to 160 indoor units
Easy control with big color touch panel
Fine control in each and every room with easy schedule setting
Visually displays the operating hours
Outdoor units
Long Piping Design
Actual piping length

RAS-4/5HRNAM1Q&nbsp&nbsp50 m
RAS-6HRNAM1Q&nbsp&nbsp&nbsp&nbsp&nbsp75 m
RAS-FSNAMQ&nbsp&nbsp&nbsp&nbsp&nbsp&nbsp&nbsp100 m

Maximum height difference between outdoor and indoor units

RAS-4/5HRNAM1Q
Outdoor unit is higher than indoor units : 30 m
Outdoor unit is lower than indoor units : 20 m
RAS-6HRNAM1Q
Outdoor unit is higher than indoor units : 30 m
Outdoor unit is lower than indoor units : 30 m
RAS-FSNAMQ
Outdoor unit is higher than indoor units : 50 m
Outdoor unit is lower than indoor units : 40 m

Height difference between highest and lowest indoor units

RAS-4/5HRNAM1Q&nbsp&nbsp3.5 m
RAS-6HRNAM1Q&nbsp&nbsp&nbsp&nbsp&nbsp&nbsp15 m
RAS-FSNAMQ&nbsp&nbsp&nbsp&nbsp&nbsp&nbsp&nbsp&nbsp&nbsp&nbsp&nbsp15 m

Maximum distance between first branch and indoor units

RAS-4/5HRNAM1Q&nbsp&nbsp20 m
RAS-6HRNAM1Q&nbsp&nbsp&nbsp&nbsp&nbsp30 m
RAS-FSNAMQ&nbsp&nbsp&nbsp&nbsp&nbsp&nbsp&nbsp&nbsp&nbsp&nbsp40 m