Inverter-driven Multi-split Heat Pump Central Air Conditioning System
The Hitachi Patented High Efficiency Scroll Compressor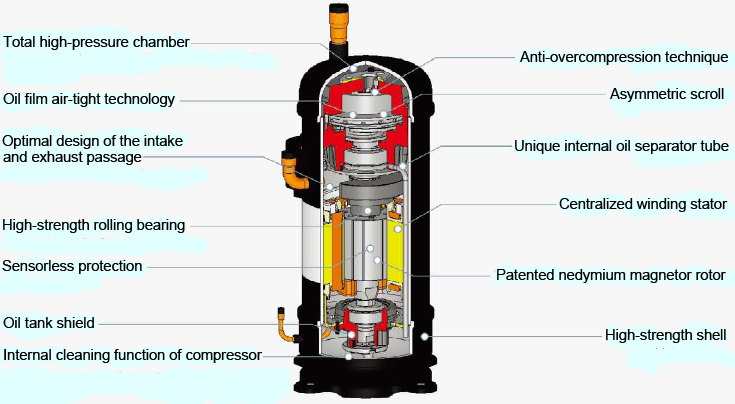 New type DC compressor motor

Hitachi FSNY8Q series use new type DC motor (centralized winding), the performance is greatly improved at 20-80Hz where the operation time of the inverter compressor is longest, thereby increasing overall system performance with medium and low load.
6-pole neodymium magnetor rotor with high magnetic energy product

The driving motor rotor used in new generation compressor adopt Hitachi's latest Nd-Fe-B permanent magnet materials with high magnetic energy product and multipolar structure, the optimal rotor shape design is more efficient in all rotary speed control.
Intelligent Defrosting Enables More Effective Heating
Pressure Defrosting mode

FSNY8Q series adopts Hitachi patented pressure defrosting mode (PTT defrosting mode), accordingly frosting doesn't occur frequently and the short defrosting time ensures heating effect in winter.

Wide Working Range

SET-FREE FSNY8Q can handle a wide range of outside air conditions, thus extending the flexibility of installation space and climatic environment.
Double Back-up Operation Function
The Backup Operation Function prevents the system from coming to a complete stop when outdoor unit failure occurs.

As one of outdoor units breaks down, the rest of outdoor units in the same refrigerant system can turn to operate urgently (more than 18HP system practicable).
As one compressor is failed, the other compressor in the same outdoor unit can be set to emergency operation mode.
More Flexible Refrigerant Piping Work
Improved flexibility of design by increasing the total pipe length to 1000 m max.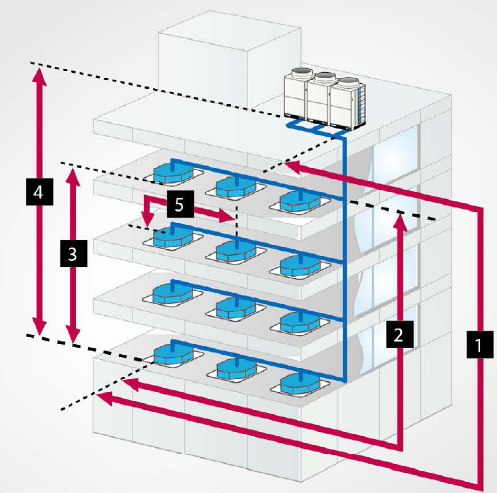 | | | |
| --- | --- | --- |
| 1. | Max piping Length | 165 m |
| 2. | Between first branch and indoor unit | 90 m or less |
| 3. | Height difference between highest and lowest indoor units | 30 m or less |
| 4. | Height difference between outdoor and indoor units | 50 m |
| &nbsp | Sales on Order | 90 m or less |
| 5 | Max. length between branch from indoor units | 40 m |
The quietest in the Industry
Highest Level in Noise Reduction
Central Station EZ
PSC-A64GT

Up to 64 remote-controlled groups and up to 160 indoor units can be connected to the single air-conditioning system.
Easy control with 8.5 inch color touch panel.
Its down-to-detail control functionalities, such as Weekly Scheduling, Accumulated Work Hours, etc, help you save energy.